LifeWealth Principles, LLC, located in Golden, Colorado, offers customized financial planning and wealth management services. We are comprehensive wealth management professionals specializing in helping clients who either are planning for retirement, or are retired and wish to preserve and grow their assets. We focus on independent financial guidance with emphasis on income tax reduction planning, asset preservation, wealth transfer planning, and retirement income distribution strategies for those who wish to maximize their distributions for themselves and their heirs.
At LifeWealth Principles, LLC our goal is help our clients during these challenging times by giving them the knowledge, tools and a comprehensive plan to outline their future and to help take them where they want to go. Our commitment to educating clients allows them to understand and be confident about their investment decisions.
---
If you would like a Complimentary Financial Review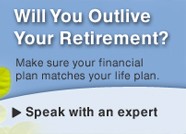 please contact us so we can schedule your review at your earliest convenince.
Earnings season can be a volatile period for stocks. As investors digest and respond to new data, the marketplace rewards some companies and punishes others.

Muni bonds and tax-exempt funds have long been a mainstay in the portfolios of income-focused investors who want to manage their tax burdens.

Establishing an LLC creates a separate legal entity to help shield a business owner's personal assets from lawsuits brought against the firm by customers or employees.

In the past, trusts were often used to avoid estate taxes, but that purpose has become less important for most people with current high exemption amounts. However, a properly constructed trust can serve many other purposes for families of more modest means.
How much do you need to save each year to meet your long-term financial goals?

Use this calculator to estimate the cost of your child's education, based on the variables you input.

Use this calculator to estimate how much income and savings you may need in retirement.

Estimate how much would remain after paying income taxes and penalties if you took an early distribution from a retirement plan.